April 26, 2017 by: Debbie Meritsky and Marc Rotman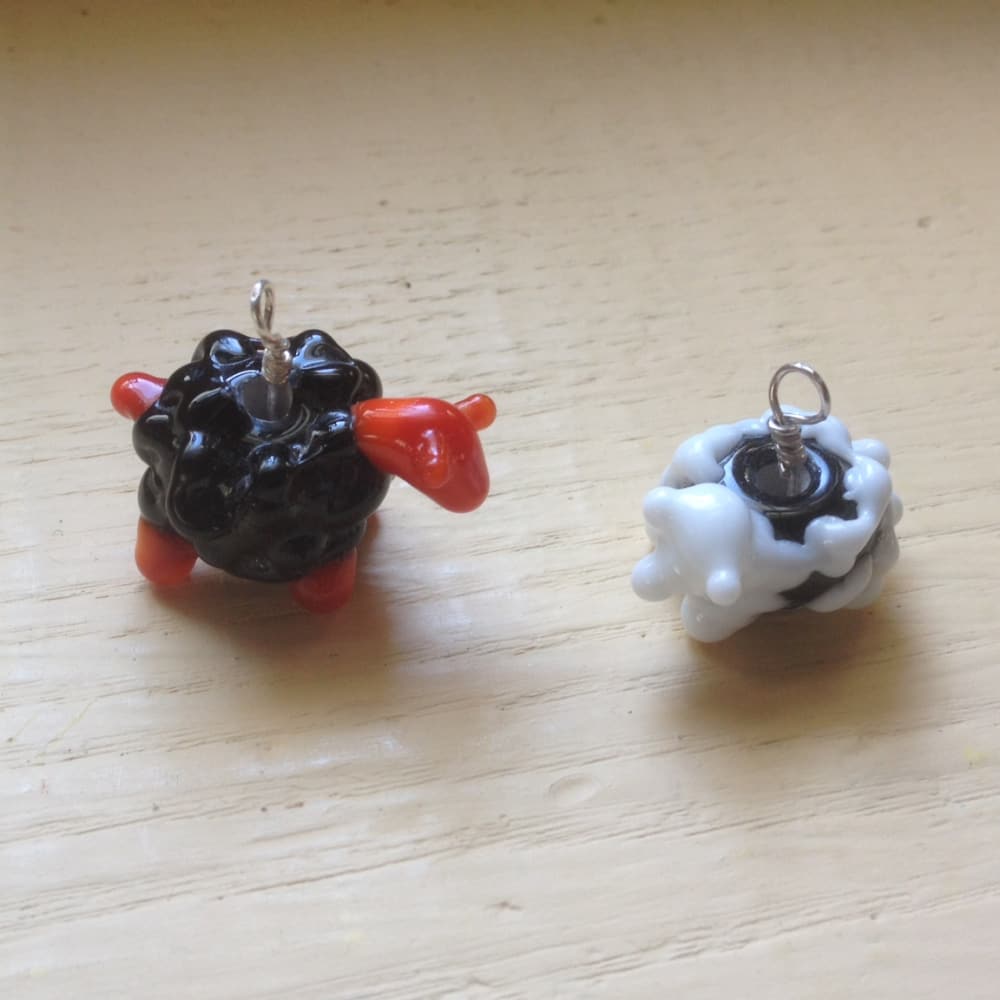 Marc and Deb make their own Black Sheep at the Corning Museum of Glass
As our first blog for 2017, in conjunction with our new website, we begin a series where we will introduce you to the many fantastic experiences available here in the Finger Lakes region of New York. We will show you some of the well-known attractions here in the region, and some of the hidden gems too. Our first stop is one of the most popular attractions in the entire state of New York.
Earlier this month, Marc and Deb, your innkeepers at the Black Sheep Inn and Spa, had the opportunity to give "flamework" a try during a Make Your Own Glass experience at the Corning Museum of Glass, (CMOG), in Corning, NY. Although we are both creative types, working with hot glass over a flame that's over 2000° is a little intimidating, but our instructor, Shilo, was not only knowledgeable, but very patient as well.
You start out by donning an apron, protective sleeves, and special goggles that let you safely stare at the flame. Then it's time to pick out your glass colors, almost too many to choose from. Being that we would be making lamb beads, Marc went for the standard black and white, and Deb combined black with her favorite color, orange. Have you ever seen a Halloween lamb?
Shilo quickly showed us all the different techniques needed to make a lamb bead, by creating one in black and clear. Then it was our turn. It was really fun, although, you can start to appreciate how much time it takes to get proficient at the different techniques used in flamework. Watch the video here.
Within a half hour, we had both created a lamb bead and were returning our aprons and goggles. The time certainly flies by when you're creating. Once our lambs were made, they needed 24 hours in the annealer to cool down gradually so they wouldn't crack, and then we could pick them up. We did, and here they are!
What a great experience. Even though we send many of our guests to CMOG and their Make Your Own Glass studio, we had never actually visited ourselves. When you are visiting the Finger Lakes area, you won't want to miss the Corning Museum of Glass, and take the time to choose from one of over 15 different projects you can experience while at the museum. You can get more information on the Black Sheep Inn and Spa at stayblacksheepinn.com, and the Corning Museum of Glass at cmog.org.
Thanks CMOG!
Marc and Deb
Innkeepers at the Black Sheep Inn and Spa