February 5, 2018 by: Debbie Meritsky and Marc Rotman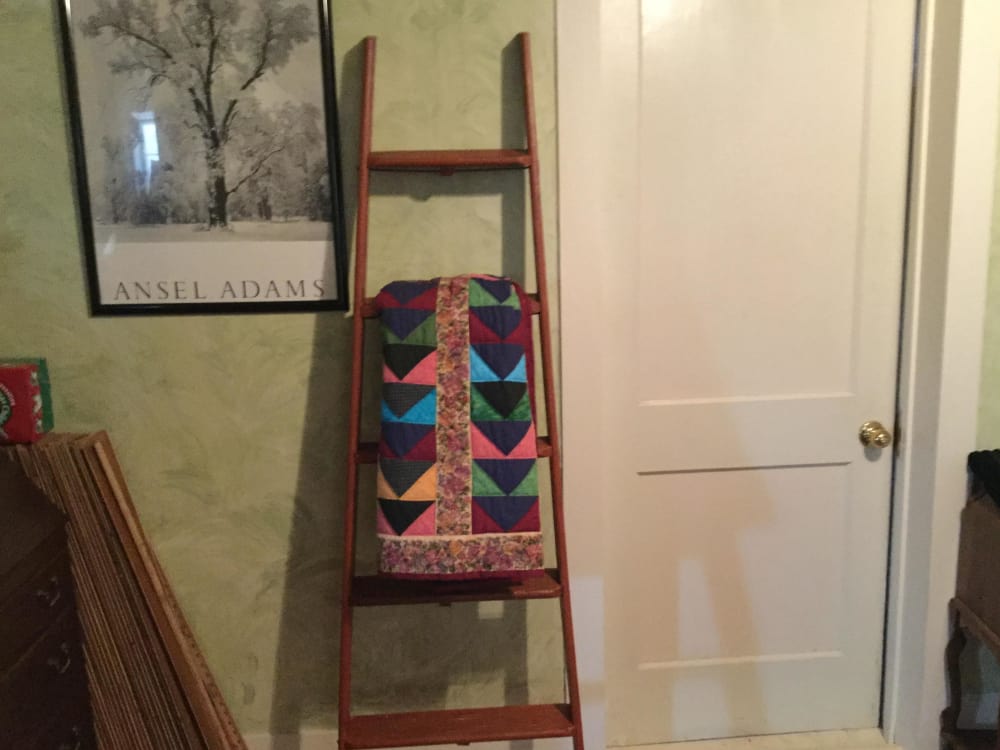 Repurposed Ladder Inspiration at the Black Sheep Inn
Happy February everyone! As Innkeepers, and artists, there is no better compliment than when a guest sees or experiences something here at the Inn that they want to create for themselves at home. We had a lovely couple stay with us almost a year ago, and Kathy really loved the towel rack we have in the private bathroom in our Wood Room.
Although the ladder we have used in the Wood Room is actually an apple-picking ladder, wider at the bottom and very narrow at the top, it continues to be one of our favorites when it comes to pieces serving in a repurposed capacity. During her visit into F.L.A.V.O.R. Studio, Kathy mentioned the ladder to Deb, and how she had a special quilt she wanted to display. Before you know it, Deb's creative juices were flowing and she had talked Kathy through the process on what she would need to do to create her own repurposed ladder rack. As it turned out, Deb was able to find an old ladder in "our" stash of old stuff that we could offer to Kathy for her project.
With ladder in hand, actually in the trunk of her car, and some brief instructions from Deb, Kathy set off to create her own repurposed ladder. Success!! We are thrilled to show you a photo of the completed ladder and offer Kathy resounding congratulations on a job well done.
We get the great pleasure of talking with Inn guests and Studio visitors about some of the projects they have completed, ones that they are currently working on, and those still in the planning stage, too. We believe that everyone has some creativity within them, and we love to encourage aspiring repurposers to just get in there and try it! Use whatever term you want, upcycle, repurpose, recycle, shabby chic, or reuse, we are always inspired whenever someone sees the value in second-hand items, cast-offs or the unusual.
To learn more about the repurposing we do here in F.L.A.V.O.R. Studio, follow us on facebook at facebook.com/FLavorStudioandGallery/ and look for our new website at flavorstudio.net. You can get more information on the Black Sheep Inn and Spa at stayblacksheepinn.com.
Thanks for sharing your project with us Kathy!
Marc and Deb
Innkeepers at the Black Sheep Inn and Spa