April 17, 2019 by: Debbie Meritsky and Marc Rotman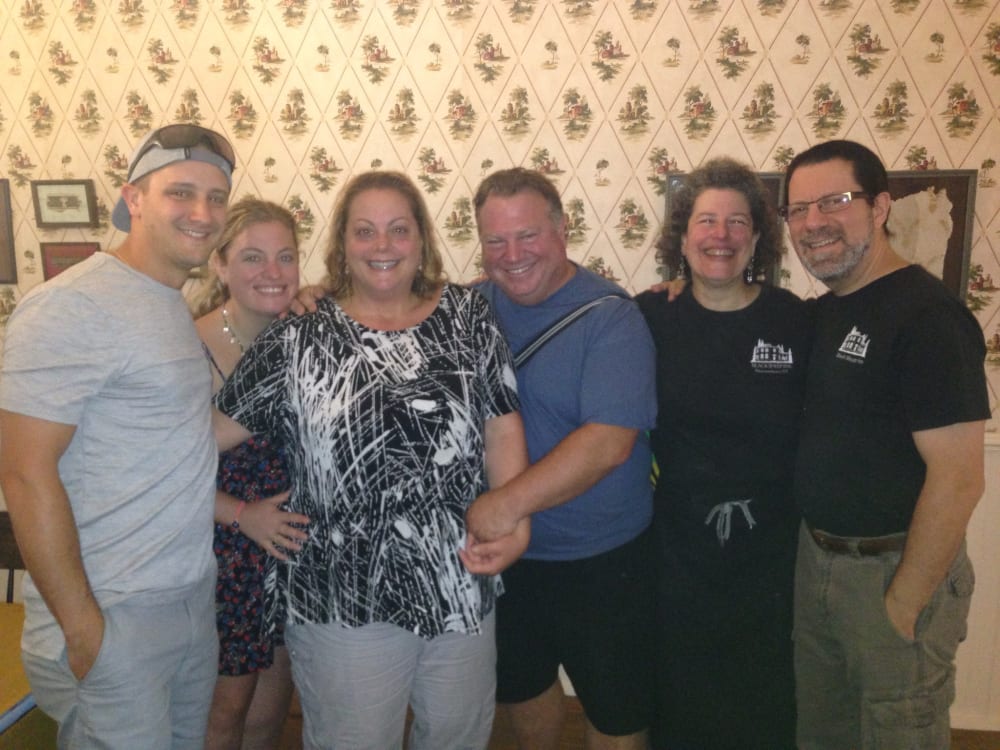 The benefits of being an Innkeeper
It has been almost 13 years since we began our lives as professional innkeepers. As many of you know, or might suspect, this is our second career, and, in many ways, it is a complete departure from our previous pasts. That's not to say that we didn't enjoy our past vocations, or that we didn't learn anything along the way. Being an innkeeper has allowed us to build on our past professions and has afforded us the opportunity to learn about an entirely new industry, tourism.

When we decided to change career paths, we did quite a bit of research, and that ever-important "soul searching", to be as sure as we could that running a Bed and Breakfast was the right direction for us. Although we thought we had everything planned and figured out, every year has brought new triumphs and new challenges, too. Any time a B&B is illustrated in the media, whether on TV or in the movies, there is always a bucolic setting with bright, sunny skies, an apron-clad hostess tenderly arranging fresh baked cookies on a tray, and the hustle and bustle of happy guests. This is mostly true, except for the apron, maybe.

In reality, like any other profession, there are the really enjoyable parts of your work, and the tasks that would be easy to put-off until tomorrow. Except that tomorrow there is a whole new set of tasks to accomplish. Much of what we enjoy, as innkeepers, you can readily see and enjoy for yourself while you're here. Specifically, we love where we live, both our home and the property it sits on. The setting we have just outside the village of Hammondsport is rural in nature and we regularly enjoy looking at the mountainside across the valley, as the sunlight creates new imagery on the scenery as the day passes. We also get to enjoy Keuka Lake, whether we walk up to Depot Park, at the lakefront, or drive the kayaks to Champlin Beach so that we can paddle the inlet for a while. Don't forget, we also get to participate in a multitude of celebrations, though the conceptions we don't get involved in, but they do occur.

We could continue listing all of the minutiae that brings us joy as Innkeepers here in the Finger Lakes, but we really haven't touched on the true reason we love what we do, and our most important benefit. YOU, our guest. Even though there are days that feel like we're playing the leading roles in "Groundhog Day", our guests are the reason for everything we do. Over the years, we have had the good fortune to meet and get to know an amazing number of tremendous people from all walks of life, and from all over the world. Unfortunately, we don't have enough space here to even start naming those who have made an impression on us, but suffice it to say, that our lives have been touched in a multitude of ways by all of you. We have learned so much, from travel tips to discussions about art, music, or movies. We get to learn a little bit from each of you, and as a whole, it makes us better people.

Before we became innkeepers, we really thought we had everything figured out. The one element of our work that we didn't count on is the separation anxiety that we feel after our guests checkout. We're excited to greet you when you arrive, and we enjoy getting to know you while you're here, and then you leave us to go back to your lives. We didn't realize how attached we would become. There is a downside to connecting with our guests, too.

For those that stay in touch through Social Media, we continue to build friendships remotely, as we look forward to your next visit, and therein lies the catch. With any friend, near or far, you always share their ups and downs, but mostly, hopefully, the ups. We can illustrate these realities of life with one particular case about a young couple from Germany who stayed with us a few years ago. The loveliest couple you could ever meet. We have stayed in touch with them over these few years and shared in their joy as they welcomed their first child to the world, a beautiful baby girl. Unfortunately, not long after her first birthday, her Dad was diagnosed with stomach cancer. He fought bravely, but his condition was beyond recovery, and we recently lost him too soon at the age of 39. We will forever remember his overall kindness and passion for good food and good guns, (He was a police officer). We try to remember that you never know how you affect those around you, because we are regularly, positively affected by those around us.

I think now is a good time to hug your innkeeper!
See you soon,
Marc and Deb
#fingerlakesbedandbreakfast #fingerlakesbnb #flxbnb #realbnb #bookdirect #fingerlakesfarmtotable #stayflx