March 20, 2019 by: Debbie Meritsky and Marc Rotman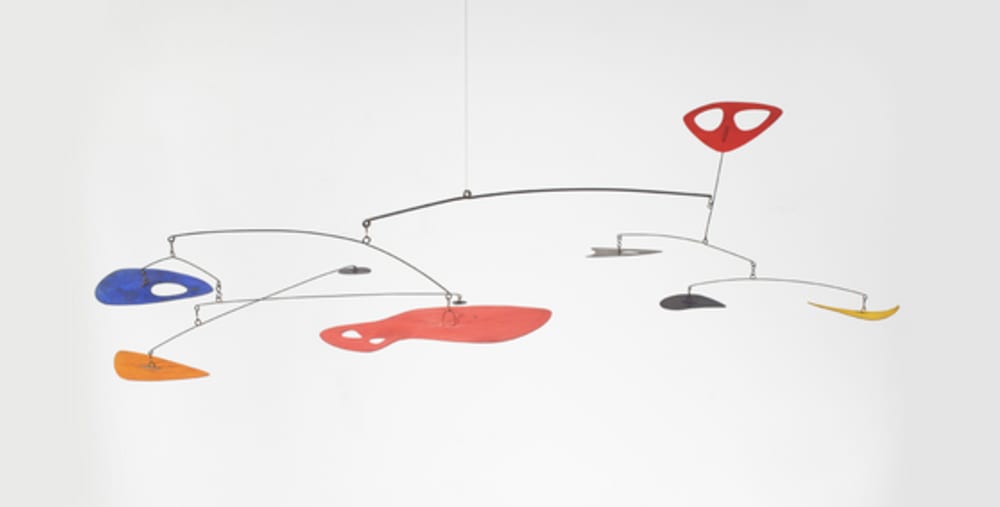 What inspires you?
This is a very broad question that has as many different answers as it does the number of people answering it. You may find inspiration in those around you, or the scenery at a state park. There, of course, is inspiration to be found from within the animal kingdom, or through the struggles of challenged individuals who rise above their own personal limitations. We all know some who find inspiration in their faith, and those that inspire us, though not meaning to, while helping others in a multitude of ways. All in all, this topic can turn into a very deep and important discussion.
We will be talking about one of the many categories that inspire us, Art, and, more specifically, the art of Alexander Calder. You may not have heard of him, or remember his name, but we're pretty sure that you would recognize some of his work. Born in Lawnton, PA into an artistic family in 1898, Mr. Calder is the widely accepted inventor of the mobile. His grandfather, Alexander Milne Calder, a classic sculptor, was responsible for the statue of William Penn atop Philadelphia's City Hall, and his father, Alexander Stirling Calder created the Swann Memorial Fountain, also in Philly.
Despite his parent's encouragement to follow a non-arts path after high school, it was no surprise that after only a few years utilizing his mechanical engineering degree, Calder jumped into the art world with a splash. He studied drawing and painting at the Art Students League in New York before moving to Paris in 1926 where he performed his Cirque Calder, an artistic rendering of a circus using wire models rigged to perform the various functions of the circus performers they represent. Alexander Calder's friend Marcel Duchamp is responsible for coining the term "mobile", a pun in French meaning both "motion" and "motive".
Along with his mobiles, over the decades, Mr. Calder has produced paintings, standing mobiles, monumental outdoor sculptures, works on paper, domestic objects, and jewelry. He was also the first artist to be funded by the National Endowment for the Arts, for his public sculpture La Grande Vitesse in Grand Rapids, Michigan. He once accepted an invitation to exhibit at a well-known gallery for a "one-man show", and when he arrived, he had brought no works with him, much to the dismay of the gallery owner. However, he did have a spool of wire and a pair of pliers in his pocket, so he proceeded to create an entire collection of new works right there in the gallery, and the exhibition was a total success.
We know this bit of background on Alexander Calder just scratches the surface, but we find his work and his unique combination of whimsy and innovation to be truly inspiring. With his use of color and form, whether in his mobiles or his outdoor sculptures, he offers a purity of design, which we find appealing. His simple abstract forms, both static and dynamic at the same time, allow for individual interpretation by every viewer. As is sometimes in life, complicated is not always better.
We encourage you to explore his body of work at calder.org, and you can probably find one of his many outdoor sculptures near you to visit for your own inspiration.
Feeling inspired,
Marc and Deb