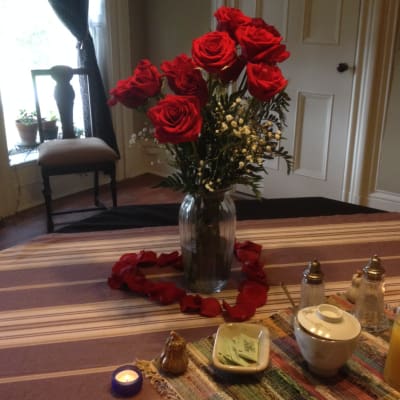 Welcome Amenities
Make your stay even more special with our Black Sheep Inn and Spa Welcome Amenities. Whether you're celebrating a birthday, engagement or anniversary, or just here to have some fun exploring, enhance your visit with us by selecting an amenity that's individually suited to you and your special someone.
Coffee making facilities and refrigerators on both guest floors.
Long stem roses with hand written card for that someone special
Handmade chocolate dipped fruits
Black Sheep Inn Harvest coolers to enhance your Finger Lakes Wineries getaway
Reservations at local restaurants
A rejuvenating massage at the Spa at the Black Sheep Inn
A private luxury excursion to the local boutique wineries and breweries
Special requests or suggestions are accommodated whenever possible
If you are not staying with us, but would like to send a welcome amenity to a guest as a gift, please give us a call.
Inn gift certificates are always available in any denomination, a great surprise for birthdays, holidays, anniversaries, weddings and more!
Contact us at (607) 569-3767, or (607) 368-8471, or check the appropriate box on our reservation form if you are interested in any of our welcome amenities.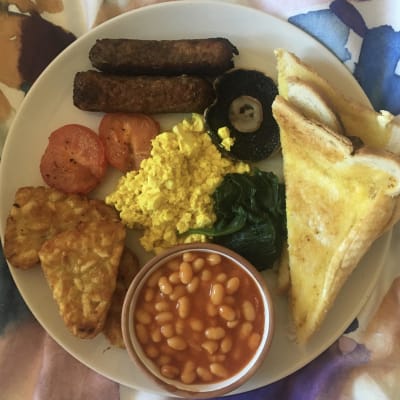 Plant based breakfasts
Our plant-based breakfasts are served between 8:00 and 9:30 am. Wake up to a hot cup of tea or coffee, a friendly smile, and a truly amazing breakfast.
At The Black Sheep Inn, we always try to source the highest quality local ingredients whenever possible. There are independent farms, farmers' markets, purveyors, and cottage sellers all over our area from which we are proud to purchase so much of our food's components. We will also be beginning our own vegetable and herb garden where many of our ingredients will be grown on-site!
Owner/Innkeeper Miranda is an enthusiastic and accomplished home cook, with a passion for creating satisfying, hearty and wholesome plant based meals. She is now dedicated to sharing this passion with our guests at The Black Sheep Inn!
In addition to the selection of fresh fruit, homemade granola, freshly baked goodies waiting for you on the sideboard, here are some samples of what you can choose for the main event!
The 'Full English': Beyond Meat sausage, sauté potatoes, scrambled tofu, mushrooms, tomatoes, baked beans, toast.
Mix and match: choose from the above to customise your own bespoke breakfast!
Breakfast Hash: onions, potatoes, Beyond Meat sausage chunks, mushrooms, collard greens.
Scrambled tofu on toast.
Avocado on toast with cilantro and kala namak salt
Fluffy pancakes with maple syrup and fresh fruit
Nuevos rancheros: a Mexican inspired hash with tofu, scallions, black beans, kale and a touch of spice
Overnight oats: oats, chia seeds, plant based yogurt, maple syrup served layered with fresh fruit compote
We hope you enjoy our fabulous plant-based cuisine as much as we enjoy sharing it with you!
If your diet requires our personal accommodation, please let us know at least 24 hours in advance. Our cuisine is 100% vegan, but if your diet requires other accommodation please don't hesitate to let us know. *Common food allergens are used in the kitchen. Please let us know in advance if you have any food allergies.
Breakfast at the Inn – Included with your stay is a delicious, plant based breakfast served in our dining room or if you'd like, we can prepare a candlelit breakfast for two served in one of our private spaces.
Picnic Lunch or Dinner – Let us arrange for boxed Lunches or Dinners to enjoy during your fun-filled day at the wineries, romantic scenic trails or beautiful lakefront parks here in the Finger Lakes.
Inn Harvest Cooler – Loaded with homemade plant based sweet and savoury goodies to enhance your Finger Lakes Wineries getaway experience.
Give us a call at (607) 569-3767, (607) 368-8471 or make your reservation online today and let us know if you are interested in any of our dining options.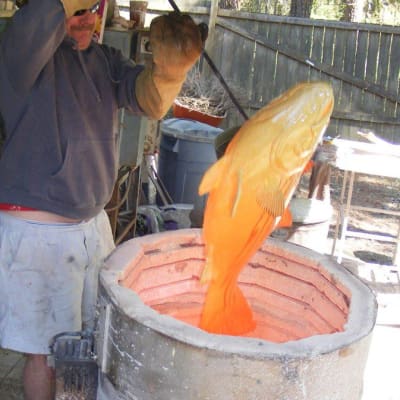 Attractions
Come experience everything under the sun that the Finger Lakes region of New York State has to offer.
Hammondsport, Keuka Lake, and the Finger Lakes offer something for everyone! Come explore an area where the arts flourish, the wines are award winning, and the scenery is spectacular! Where the great outdoors awaits you, with hiking and biking trails to beautiful waterside parks. If you're just beginning your love of wine or have a more educated palate, Finger Lakes Wine country is the place for you. For the art lover, history buff, or aviator, you'll fall in love with Hammondsport and the Finger Lakes. Take a scenic flight, create your own glass souvenir, and walk behind a waterfall. Wander the trails, from gorges to hilltops. Travel country roads that wind past vineyards and farms to crystal clear lakes and charming villages. Marvel at world-class art collections and star-studded summer skies.
Choose from the list of local attractions on the right to learn more as you plan your Finger Lakes getaway.
Hot Glass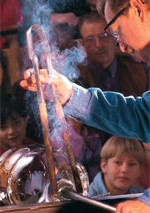 Glass abounds in Corning! There's cut glass, stained glass, contemporary glass sculpture, antique glass, and glass architecture! Visit working glass studios where artists form original creations from molten glass. View authentic Tiffany windows in historic churches in the area as part of the Tiffany and Treasures Trail. Visit The Corning Museum of Glass, one of the most visited attractions in the state. At The Corning Museum of Glass you can bend light, bend glass, and bend your imagination! More than a museum, it's a science and discovery center, an art and design center, a working glass studio, a contemporary art gallery, and a study in world history. It's also a collection of tens of thousands of glass objects from around the world. In short, The Corning Museum of Glass is art, science, history, technology, and more! From an ancient glass portrait of an Egyptian pharaoh to fiber optics and flat screen technology, if it involves glass, it's at The Corning Museum of Glass.
Cool Lakes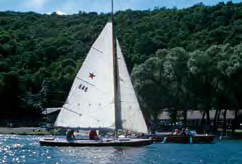 The Finger Lakes Region consists of 11 lakes formed by the receding glaciers of the last ice age. The lakes resemble fingers in that they are long and narrow and vary in length. The longest lake is 40 miles long, the shortest is only 3 miles long. Each lake is named with a Native American word. From west to east, the Finger Lakes are: Conesus, Hemlock, Canadice, Honeoye, Canandaigua, Keuka, Seneca, Cayuga, Owasco, Skaneateles, and Otisco. Of all the Finger Lakes, Keuka Lake is undoubtedly the most unique. One of the few Y-shaped lakes in the world, the water flows both north and south!
The Finger Lakes region is a popular vacation destination and Keuka Lake is known as the "gem of the Finger Lakes." Clean and cool, the lakes offer plenty of opportunities for family fun. Whether you prefer to swim, sail, water ski, cruise, paddle, dive, or just enjoy the view, Keuka Lake is the best of the Finger Lakes!
Want to learn about the history of boatbuilding during your stay in the Finger Lakes, we encourage you to visit the Finger Lakes Boating Museum. Housed in several historic buildings, formerly built and occupied by Pleasant Valley Wine Company and Great Western Champagne, this instructive museum exhibits a wide variety of boats built here in the Finger Lakes region. You may also want to participate in one of their educational seminars where you can learn how to tie knots or build your own paddle. For the seasoned sailor, there are even classes on boat building and restoration.
Superb Wines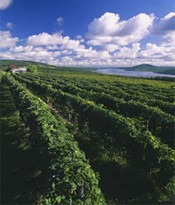 Finger Lakes wines are attracting a lot of press. Maybe you've read about them in the New York Times, Washington Post, Newsday, USA Today, or Chicago Tribune. There are over 10,000 acres of vineyards planted in the Finger Lakes region, producing 35 million gallons of wine annually. And these wines are winning national and international awards. Why fly to California when you can enjoy world-class wine just a few hours away? There are over 100 wineries in the region. Where does one start? We recommend you start your Finger Lakes Wineries getaway in Hammondsport, where the first grapevines were planted in 1829. The award-winning wineries near Keuka Lake offer superb wines and great wine-tasting experiences.
Unbeatable Brews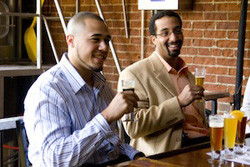 The newly established Finger Lakes Beer Trail promotes the growing craft brewing industry in the Finger Lakes, showcasing the region's microbreweries and brew pubs. The trail is comprised of over 35 craft brewers spanning roughly 135 miles across the central part of New York State from Rochester to Syracuse down to the Corning and Binghamton areas, resulting in a trail overflowing with natural beauty along which tourists and beer aficionados alike can enjoy an abundance of delicious locally brewed beers.
More specifically, within an hour's drive from the Black Sheep Inn, you can experience over two dozen micro-breweries and brewpubs. These establishments offer the very best in handcrafted beer that reflect the many different flavors of the Finger Lakes. You will definitely want to take some home with you, and there's no better way to assure the freshness of your favorite brew than a 64 ounce, food-grade stainless steel, insulated growler, only available at the Black Sheep Inn. These growlers will keep your beer cold for up to 24 hours, (if it lasts that long.) Reserve yours when booking your stay at the Inn or when visiting the Beer Trail around Hammondsport or Keuka Lake.
Arts and Culture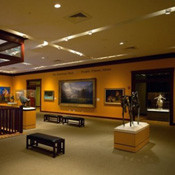 Art lovers across America voted Corning as "One of the Top 3 Small City Arts Destinations in the U.S." Explore world-class museums with amazing collections. Discover studios and galleries with stunning original art from nationally known and regionally distinguished artists. You'll find everything from paintings, sculpture, pottery and glass to jewellery and fiber arts. Take advantage of classes and workshops taught by recognized artists. Enjoy a concert, theater production, or art show.
Handcrafted in the Finger Lakes
There's nothing more exciting than finding the "perfect" gift! You will find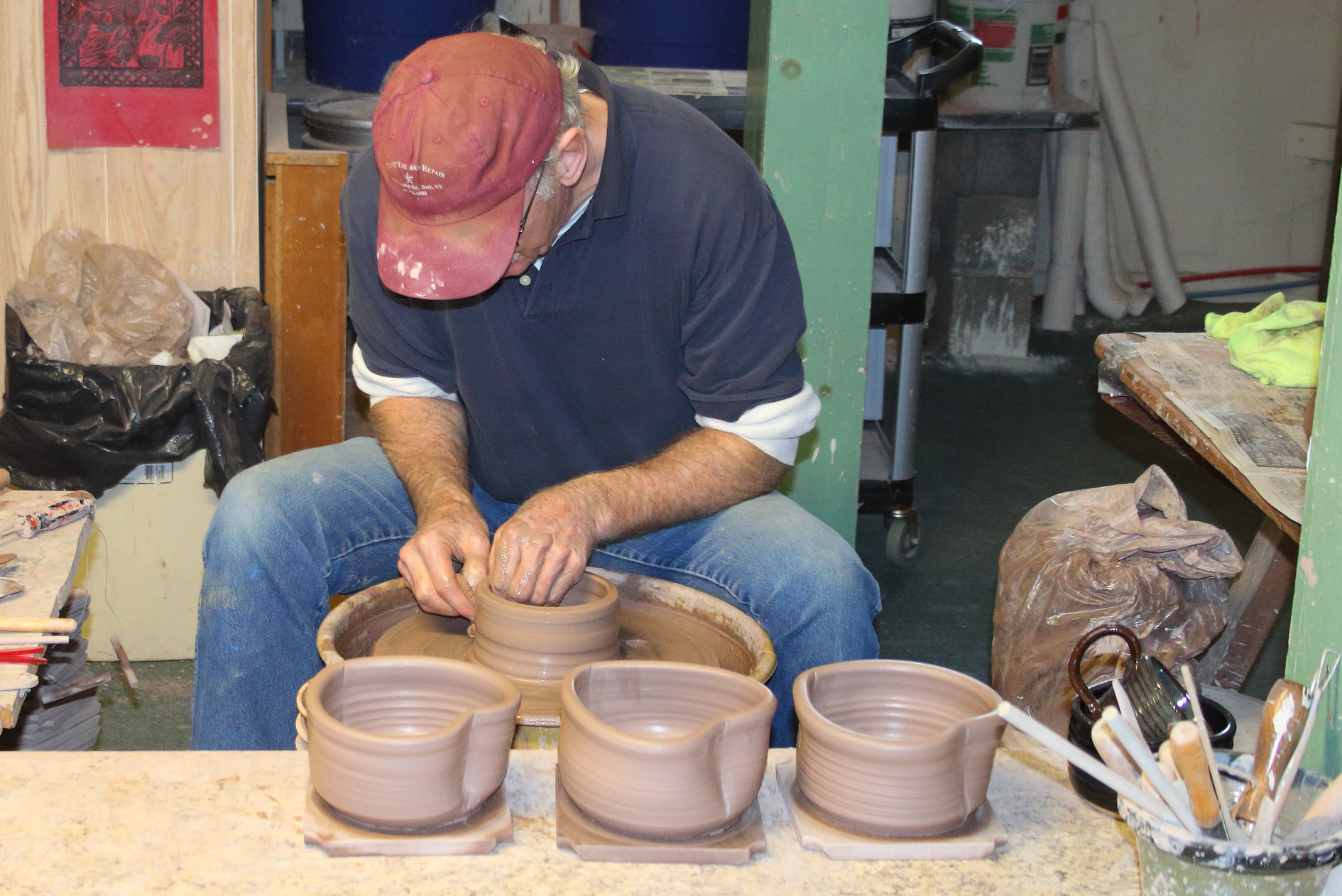 something unique and individually handcrafted to inspire you, whether for yourself or that special someone. Here in the Finger Lakes, you will find an extraordinary selection of handmade items, from functional pottery to artisan soaps. Here at the Black Sheep Inn and Spa, you will find many handcrafted items to excite you such as hand-crocheted organic cotton wash clothes and miniature oil paintings of local landscapes on wood.
You can also enjoy a relaxing shopping experience distinctly different from the mall. Stroll tree-lined streets festooned with flower boxes and American flags. Delight in old-fashioned ice cream parlors, quaint shops, and charming boutiques. Take the scenic route to explore village main streets where you'll find wonderful shops brimming with treasures just waiting to be discovered!
Do nothing but relax in the moment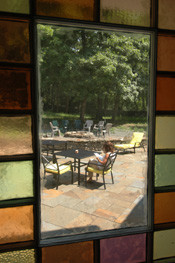 It's always exciting to travel to new places and explore new settings, but sometimes you just need a little down time for yourself. The Black Sheep Inn and Spa is the perfect backdrop for your quiet retreat, whether you choose to sleep-in before your Hot Stone massage, or spend the afternoon basking in the sunshine in our stone courtyard. Whatever makes you happy and relaxed is ok with us, and we'll be there to bring you a cold drink, or whatever else you may need. Don't miss the opportunity to truly take some time off and rejuvenate here at the Black Sheep Inn.
Take a Drive
We all like to explore, and there's no better place to follow the road less
traveled, than here in the Finger Lakes where scenic country drives are in every direction. Named one of the Top 15 Scenic Drives in the World by British Airways, Route 54A has long been a favorite scenic route in Steuben County. Follow it all the way around Keuka Lake, or head up the High Road in Hammondsport to visit the award-winning wineries. You may want to take along our Inn Harvest Cooler, filled with tempting local products to nibble on while you are out exploring for the day. Here at the Black Sheep Inn, we're happy to supply maps and recommendations to point you in the right direction.
Finger Lakes Antiques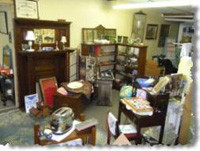 The Finger Lakes region abounds with wonderful antiques and collectibles, with an inviting shop or barn around every corner. Whether you are interested in American primitives or European china, nostalgic local wine making contrivances or just an old pair of skates, you'll find it all here. And at reasonable prices, too. The Hammondsport and Keuka Lake area offer numerous antique co-ops, as well as stand alone shops to offer you irresistible treasures to take home with you. And if you time your visit just right, you might get to experience the village-wide Hammondsport Yard Sale in June. It's always the right weather to search and seek for that special piece!
The Great Outdoors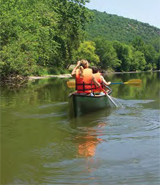 Experience beauty, serenity and breathtaking views as you hike through forests, next to waterfalls, over hills, and across valleys in the Finger Lakes region.
The Black Sheep Inn is centrally located to the Finger Lakes Trail where you can be assured of an amazing hike with over 900 miles of footpaths & trails that criss-cross the Finger Lakes and Steuben County. Or explore the miles of hiking trails in our beautiful state parks like Pinnacle State Park, which offers breathtaking vistas of the Canisteo River Valley or Watkins Glen State Park, with its many picturesque gorges and dramatic waterfalls or the many other parks dotting our lush region. We are your home base while you Hike and Bike the Finger Lakes.
Biking the Vistas to Vineyards.
Whether biking along a sun drenched ridge overlooking Keuka Lake with the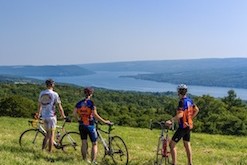 wind at your back, hiking through a deep-set gorge with the sound of rushing water in the air, or paddling a kayak through the crystal clear waters of the Finger Lakes, there is no better base-camp than the Black Sheep Inn and Spa. As avid outdoor enthusiasts, your Innkeepers will guide you to the best spots to immerse yourself in the natural beauty of the glacially formed Finger Lakes. In the heart of the Southern Finger Lakes, Hammondsport is the ideal location as your home base while you trek about the region taking in the dramatic scenery.
Find other great hiking and biking options at Letsgohikeandbike.com.
Kayak Keuka Lake
Whether you bring your own or request a rental, Keuka Lake offers a relaxed and scenic backdrop for an afternoon of paddling around. You can explore the Keuka Lake inlet, too, which offers a serene and secluded experience.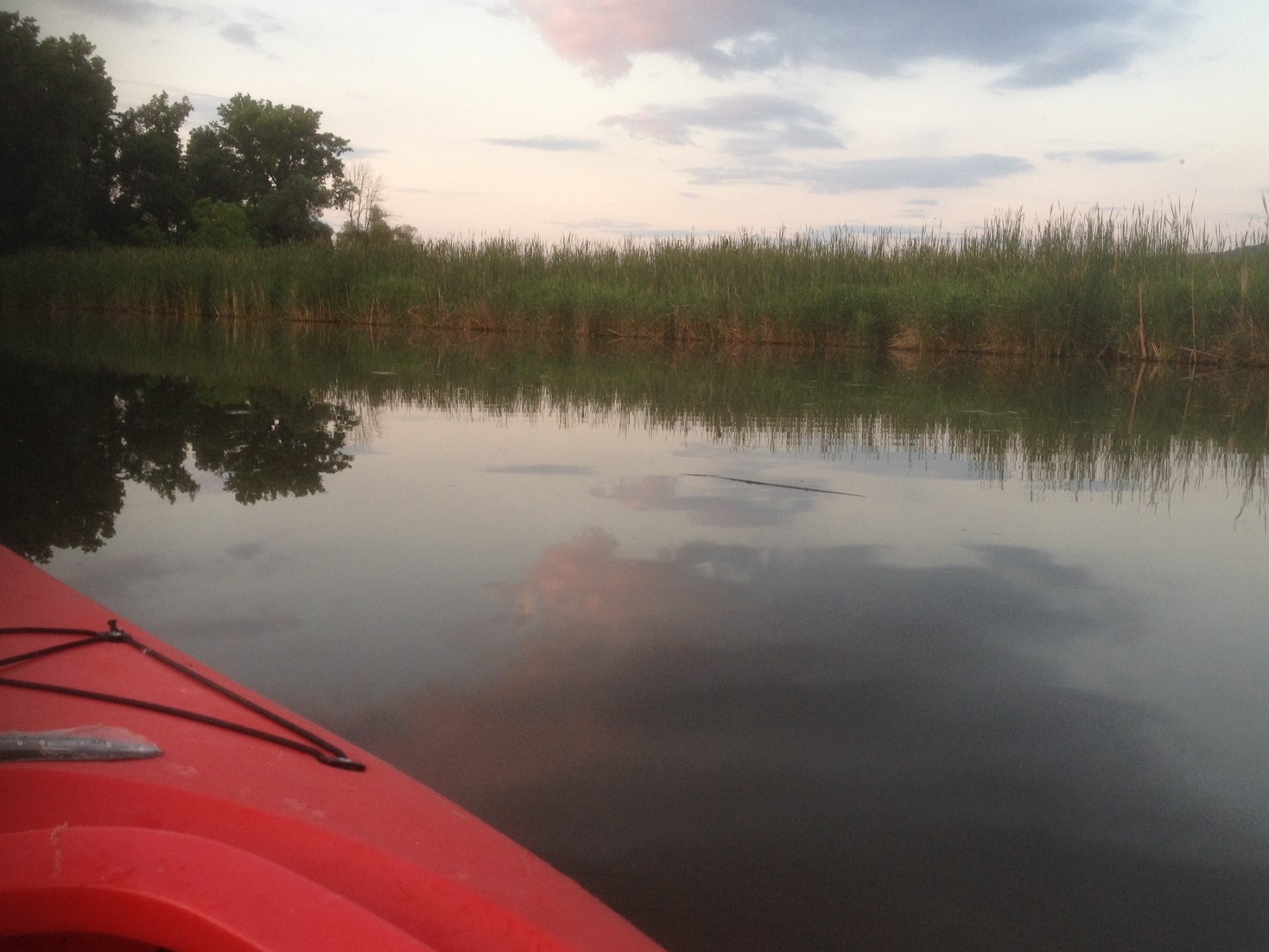 Take the opportunity to cool off with a quick jump in the lake, grab a romantic picnic lunch, or find a shady spot under a tree with a view of the lake at one of our lakefront parks.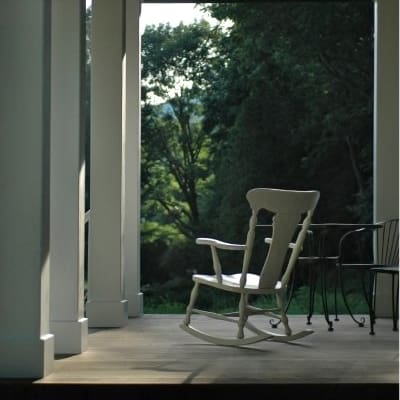 Gift Certificates
The perfect gift for the one you love, a relaxing getaway to a premier Finger Lakes bed and breakfast, the Black Sheep Inn and Spa in Hammondsport, NY, in the heart of the Finger Lakes. Whether it's for a birthday, engagement, anniversary or some other special occasion, the gift of time away in a beautiful setting is an incomparable way to show you truly care!
We personalize each Gift Certificate especially for you. With no minimum denomination, or specific dates necessary, the choice is yours. And there are two types of Gift Certificates you may choose from;
Specify a set dollar amount for your gift certificate, which may be used toward any stay at the Black Sheep Inn, and at any time we have availability.
OR
Choose a specific room and any length of stay, which makes the Certificate all-inclusive, which may be used at the Inn at any time we have availability in the room you have selected.
With any certificate selection, guests enjoy our indulgent local organic breakfast each morning.
Once the certificate is finalized, it is valid for one calendar year from date of purchase. The recipient of the certificate can contact the Inn anytime to schedule their stay, which is based on availability.
Whatever your selection, we make it fast and easy for you to purchase a gift certificate. We collect some basic information from you about what you would like to include on the Certificate, then we will submit a proof of the Gift Certificate to you via email for your approval. When you approve the proof, we will accept your payment. We are happy to print your certificate on parchment paper and mail it to you, or you may print your certificate at home if it is more convenient.
Gift Certificate recipients can lengthen their stay, alter their room selection, or add additional services at any time prior to their arrival, based on availability.
Are you a not-for-profit organization looking for a distinctive offering for your group's Silent Auction or Gala Fundraiser? We offer a unique opportunity to help your organization reach it's fundraising goals. Call us for more details at (607) 569-3767 or (607) 368-8471.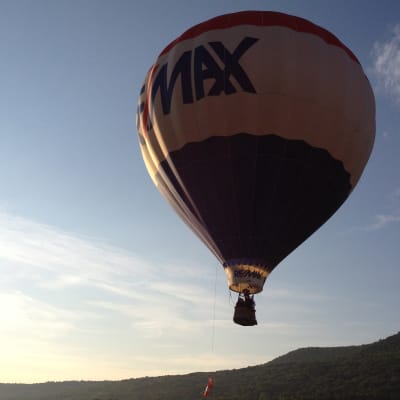 Things to Do
Here at the Black Sheep Inn and Spa we have gathered a responsive group of customer-oriented partners to help us provide you with the most memorable visit to Hammondsport and the Finger Lakes possible. As an extension of the many amenities we offer our guests, and with encouragement from our partners,


Whether a guest at the Inn or not, contact us to schedule any of the following:
~Experience one of our pre-arranged Packages to make the most of your visit to the Finger Lakes. We have taken all the guesswork out of "What should we do today?" Let us guide you to some of the best places and most fun adventures!
~Purchase discount tickets through the Black Sheep Inn for many of the local museums, including the 
Corning Museum of Glass, Rockwell Museum of Western Art, Glenn H. Curtiss Museum, and Finger Lakes Boating Museum.
~Enjoy a 2-hour tour on a 67' sailing schooner. Your exhilarating Midday or Midafternoon Finger Lakes sailing adventure offers the opportunity to get out on the water in a small, intimate group of no more than 22 sailors. starting at $50 per person, including tax.
~Choose between a dewy Finger Lakes sunrise, or a cool Finger Lakes summer evening lift-off from a Letchworth State Park, and watch the ground fade away as your Hot Air Balloon climbs for the sky. You're heading up with Carroll and his well-trained staff for the ride of a lifetime in a Hot Air Balloon! With great anticipation you're up and off the ground for a 60-90 minute flight, and before you know it, you see unbelievable views all around! When you land, you will raise a glass of Finger Lakes wine to yourself, each other and the team that took you all the way up and safely back again. $275 per person
~Let loose with your creative side with a 90-minute, instructive hands-on session with select Tiffany & Treasures Trail artists. Here is your opportunity to start a new obsession. Whether it's pottery, stained glass, beaded jewelry-making, or glassblowing, $75 per person, including tax.
~Like to paddle? We can arrange kayak rentals for you to enjoy during your visit. There's no better way to experience Keuka Lake, both on and off the water. Life jackets and paddle, are included.
 Full day single Kayak Rental: $35 per day, plus $10 local delivery.


Keuka Lake Spa treatments at the Black Sheep Inn and Spa
Experience the healing properties and luxury of our head to toe pampering by our well trained massage therapists. Massage treatments start at $99 for a 60 minute session.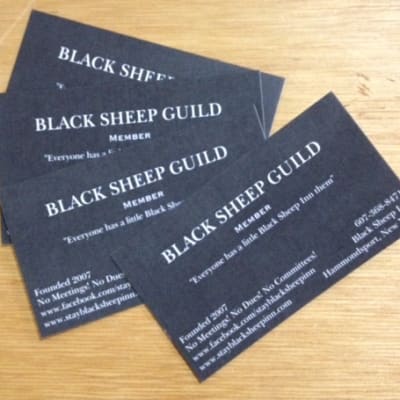 Black Sheep Guild
What is it?
Upon arrival at the Inn you'll be issued with a Black Sheep Guild Card.
The card program was introduced to enhance your experience while visiting Hammondsport and the Finger Lakes. Membership is free to all guests.
Where do we go?
We have compiled a select group of over 20 Black Sheep Guild partners from within the Finger Lakes business community including wineries, restaurants, shops and museums. We can either book your experience for you or simply present your card at time of purchase in order to enjoy some form of discount.
We let our partners decide individually how they will acknowledge the card but of course the card is free to you so anything that you receive will be a bonus!
It is important to know that our referrals are the result of several years' worth of feedback from past guests as well as our own personal experience.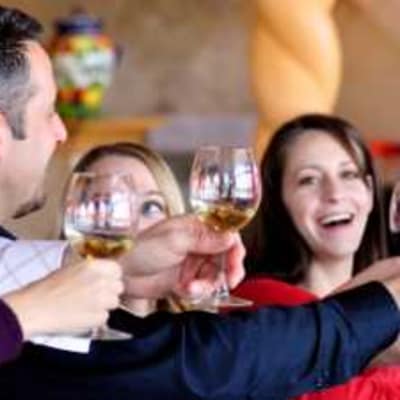 Local Events
Calendar of Hammondsport/Keuka Lake Events - CHECK WITH US REGARDING EVENT CANCELLATIONS AS A RESULT OF COVID-19.
---
February 29 ~ Hammondsport Winter Stroll
March 21-22 ~ Sips and Soups Weekend - Keuka lake Wine Trail
April 4-5 ~ Taste Of The Trail Weekend - Keuka Lake Wine Trail
May 2-3 ~ Keuka in Bloom I Weekend - Keuka Lake Wine Trail
May 30-31 ~ Keuka in Bloom II Weekend - Keuka Lake Wine Trail
June 6 ~ Hammondsport Village Yard Sale
June 27-28 ~ BBQ Weekend -, Keuka Lake Wine Trail
July and August - Palettes Of Keuka Area Art Display
July and August - Music In The Park every Thursday
July 2-4 ~ Hammondsport Fireman's Carnival
July 11-12 ~ Keuka lake Art Show
July 18-19 Wine Country Classic Boat Show and Regatta
July 18 - Food Bank of the Southern Tier's 'Tour De Keuka'
August 17-18 ~ Hammondsport's 40th Festival of Crafts
August 22 ~ "Smoke on the Water' BBQ competition, Hammondsport
September 5 - Palettes Of Keuka Auction
September 12-13 ~ Harvest Celebration - Keuka Lake Wine Trail
September 19-20 ~ 'Wings and Wheels' - Hammondsport
September 26 ~ "Bushels & barrels On The Square' - Hammondsport
November 14-15 ~ Keuka Holidays I - Keuka Lake Wine Trail
November 21-22 ~ Keuka Holidays II - Keuka Lake Wine Trail
December 5 - Hammondsport Cookie Walk
December 12 - Christmas in the Park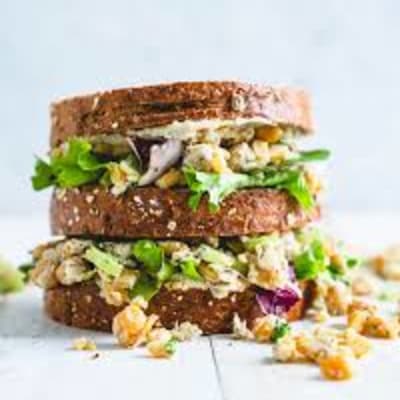 Picnic Meals
Tasty packed lunch to accompany your tour.
Pre-order a packed lunch for your days out. Your lunch will be provided in a cool bag and will include fresh veggies, dips, sandwiches, fruit and home-baked sweet and savoury treats.
We can provide an Insulated bottle filled with iced water to keep you hydrated.
$20 per person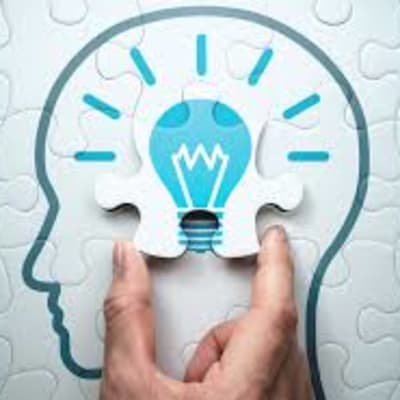 Coaching
Why not consider having a couple of one to one coaching sessions during the course of your stay?
Coaching is a fabulously effective way of 'unblocking' your thinking.
Your host Simon is a fully ICF, AC and EMCC qualified people coach who can help steer you through any challenges or dilemmas that you might have.
Perhaps an initial fact find and topic related exercise on day one with a follow up and future action session on day two of your stay.
Simon is able to provide you with a number of topic-related coaching items for your use both during and after your stay. Just let us know that you're interested in having sessions in advance of your arrival.
Sessions are normally around one hour in duration - fee $100 for a single session $150 for two (includes tax and gratuity)