About Us
Creativity is their passion! Debbie Meritsky and Marc Rotman have tapped into many of their talents in order to create an environment that will provide a very special, relaxing and satisfying experience for your visit to the Finger Lakes Region of New York State.
Debbie, a graduate of New England Culinary Institute, is a classically trained chef with over 30 years experience in Food Service, Restaurants, and Sales. Her dedication to customer satisfaction is unparalleled, and she pays great attention to the details. Also, for many years, as her culinary interests have expanded, Debbie has become well versed in many of the newer, healthier trends in food preparation, including a personal enthusiasm for local and organic foods and products. Along with her great creativity in the kitchen, Debbie maintains a playful attitude and a "willing to try anything" mindset, which goes hand in hand with her lively personality. Some of her passions include jewelry making, love of the outdoors, and gardening.
Marc is a graduate of Kent State University's Interior Design program, and as you tour the Black Sheep Inn, his sense of design and color will convey to you a feeling of comfort and ease. Professionally, he has over 25 years experience in the design trade, where he worked closely with Interior Designers and Architects to create memorable and functional environments. Marc also has an impressive track record when it comes satisfying clients, and he takes great pride in his intuitive ability to find creative solutions to a wide range of challenges. Being a very "hands on" individual, he enjoys designing and creating stained glass windows, working on projects outdoors, and involvement within the local arts community.
The restoration of the historic octagon house, and the creation of the Black Sheep Inn have been the culmination of life long dreams for both Marc and Debbie. Even though the journey was difficult at times, through dedication, hard work and perseverance, they have created an oasis from the stresses of everyday life. This environment is not just for the Inn's guests alone, this atmosphere is the embodiment of the personal philosophies of this enthusiastic couple, and their pursuit of happiness and fulfillment.
Now that they have settled into their new lives and careers as Innkeepers in Hammondsport and the Finger Lakes region, Marc and Debbie have become involved in many local and regional tourism organizations, serving on several boards and helping to implement progressive decision-making. They work with these organizations and other business partners to help create an ever-improving experience for visitors to the Finger Lakes.
In addition to their ties to the business community, Marc and Debbie have spearheaded the creation of Arts in Bloom, a Steuben County Arts Trail. This annual Art Trail event takes place on the last weekend of April each year, and incorporates Art Studio tours and exhibits throughout Steuben County, New York. As artists and art enthusiasts, Arts in Bloom was formed as a result of the many friendships Marc and Debbie have cultivated in their community. The launch of Studio at the Octagon, whose opening coincided with the inaugural Arts in Bloom event, will be the outlet through which both Marc and Debbie will explore their artistic passions.
Click here to learn about the history of the house that is now The Black Sheep Inn.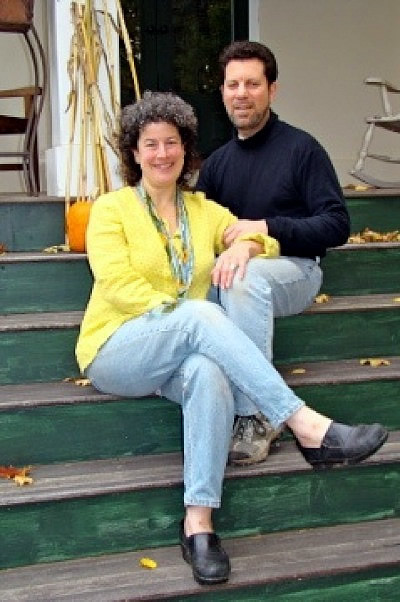 SaveSave