February 19, 2019 by: Debbie Meritsky and Marc Rotman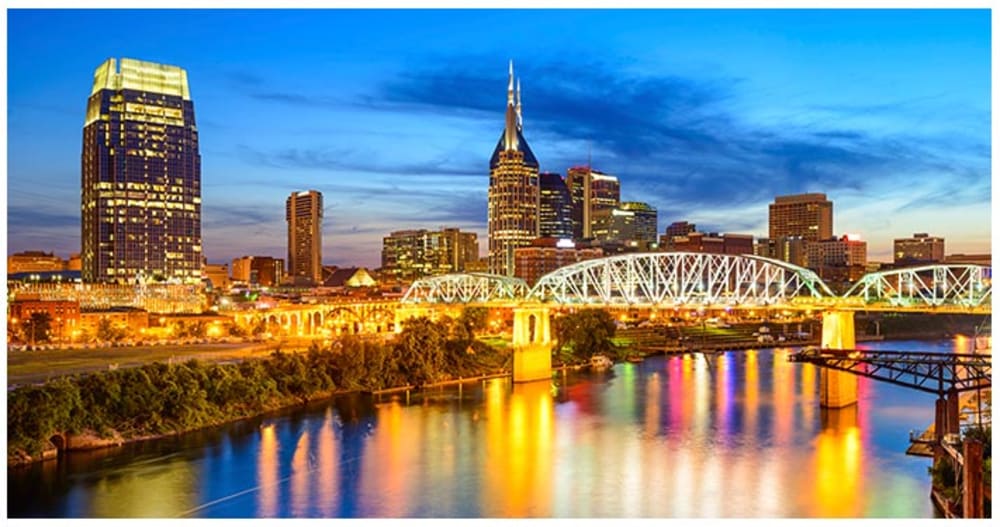 Marc and Deb's excellent adventure in Tennessee
As much as we enjoy what we do throughout the year here in the Finger Lakes, it is important for us to get out of our "bubble", and to go explore other destinations. This winter, we headed down to the great state of Tennessee. While many of you may run straight for the tropics or other warm locales, we prefer the more moderate temperatures that can typically be found a little less South. That's not to say that we need or want more snow in our lives, but we're happiest somewhere between snow and heat.
Tennessee was as friendly as everyone said it would be, and each of the four larger cities have their own complexion. We spent a little time in each, and visited a couple smaller towns, too. With the purpose of avoiding the written version of the "slides of the family vacation", we're going to stick to the highlights and the places or people that made our trip so interesting.
Nashville.
It's crazy there, but in a good way. There is so much building taking place that we wondered why they haven't run out of building materials yet. Everywhere you look, cranes are in the air and new, sleek, hip, housing developments are taking shape. And the city has a real "young" feeling to it to match. We loved the East Nashville neighborhood of Five Points, where we met some fun people and viewed some great local art at Meg and Bryant's Studio and Gallery, Art + Invention, on Woodland Street.
We also spent a little time in Franklin, just south of Nashville, which proved to be somewhat of a bedroom community of Nashville, and an overall cute town with a business district full of great shops and restaurants. Just north of thee business district, we found the Factory at Franklin, and old "Magic Chef" stove factory that has been converted to a cultural destination with restaurants, art galleries, and an entertainment venue as well. Our choice for dinner that night was Mojo's Tacos, and the place was hopping. The food was great, with a family-friendly atmosphere, and with Jeni's Ice Cream a few steps away, it made for the perfect evening. Another fun thing we found to do just outside of Nashville was a visit to the Nissan plant in Smyrna, TN, where you can take a free plant tour to see first hand how they make cars in North America's largest auto plant. No free samples at the plant, though.
Next stop, Memphis.
Of all our stops in Tennessee, Memphis felt the most "Southern". We took in the Brooks Museum of Art, which presents an astounding two-story installation piece in the form of a huge tree created by Federico Uribe with discarded clothing and other recycled elements. Be sure to take your time with this one because there is a lot of intricacy to Federico's work. When walking about downtown, we ran into the "Blue Suede Brigade", an incredible Downtown Memphis Commission initiative that has two dozen, full-time ambassadors, performing the duel role of hospitality and security throughout downtown and Beale Street. Clad in blue suede shoes when the weather allows, they are a wealth of local information, and super friendly too. Although we didn't go in, no trip to Memphis is complete without at least a drive-by of Graceland.
We enjoyed the best BBQ in Germantown at Commissary, where "the BBQ's so good you'll slap your mama!" Another important place to mention is the Crosstown Concourse, a former Sears store and distribution center converted to a self-contained artist community, complete with a extensive live/work space, a grocery, restaurants, gallery space, medical facilities, and just about everything else you need. Oh, and one more bonus mention. Right in downtown Memphis, the former home of the Memphis Grizzlies, (basketball), is a enormous pyramid that has been taken over by Bass Pro Shops and transformed into an overwhelming retail experience, where you can get anything you would normally find at a Bass Pro Shop plus power boats, ATVs, the Ducks Unlimited Museum, a restaurant, and even a lodge if you can't get it all in within a day. The pyramid building is quite unbelievable, and you can't miss it in the skyline of Memphis.
On to Chattanooga.
This being our second trip to Chattanooga, we were concerned that we had already seen it all. Not true, though we did hit a few of our favorites from the first visit. First stop, and as it turns out, last stop too, is Main Street Meats, which is on Main Street, is part local-raised butcher shop, and a really well executed restaurant. This section of Main Street has become re-gentrified and hip, but still very accessible. Just down the street is Hart Gallery, which serves the community's homeless artists by offering them a space in which to create, and the art supplies they need, as well as a gallery to exhibit and sell their work. We were lucky enough to meet several of the dedicated staff, who educated us on their important mission.
Chattanooga is not that big as cities go, so it's quite easy to get around, find what you're looking for, and park. It is home to one of our favorite Art museums, the Hunter Museum of Art, where we first learned of the Art-o-Mat. Art-o-Mats, in a nutshell, are vending machines for small works of art, in many cases, dispensed from refurbished cigarette machines. You can find one near you at their website, artomat.org. The Hunter Museum anchors a really fun "artsy" area, with interesting shops, galleries and restaurants, on both sides of the Tennessee River, connected by the Walnut Street Bridge, one of the longest pedestrian bridges in the world.
Just north of Chattanooga, Deb found a concert for us to attend at Southern Adventist University that featured three generations of musicians, Father, Daughter, and Grandson, playing the piano, violin and cello, respectively. They performed a selection of Finnish classical pieces, and while we didn't need the class credit that many of the students in the audience were after, it was great to experience live music that was somewhat different. The next day, we also ventured outside the city, this time to the southeast, and Scottsboro, Alabama, about an hour away, where we visited Unclaimed Baggage. If you've never heard of it, and we hadn't, Unclaimed Baggage is an organization that purchases a large amount of the unclaimed baggage from the airlines. OMG. It's amazing, but not what you think. When they receive the bags, everything is sorted and cleaned, as necessary, and then put out on the sales floor in their expansive showroom. All items are sorted by categories just like in a department store, everything from clothing of all brands and styles to Fine Jewelry, Sporting Goods, Books, and a huge selection of electronics, including cell phones, tablets and laptops. Don't think it's like the neighborhood rummage sale, it's not. Unclaimed Baggage's store is clean, well lit, organized, and most of all, well staffed. There are definitely some great deals to be found, and we found some.
Last stop, Knoxville.
When we started planning our time in downtown Knoxville, it didn't seem to be as walk-able as we found it to be. In fact, we were really pleased to find a significant "local art" presence in Old City and Downtown, like the Emporium Center, run by the Arts & Culture Alliance, and the Art Market Gallery. Both venues offer a selection of locally made art in a wide range of mediums. Just steps away, you'll find OliBea, an intimate breakfast joint that offers some innovative, locally sourced menu items, in addition to the local art displayed on the walls. We can certainly recommend a stop there!
Just as we were starting to get our bearings in Knoxville, we decided to take a day trip to a few small towns south of the city, like Athens, Sweetwater, and Maryville. As you've learned, we're always looking for the local art scene, and truth be told, of the three, Athens had the best art scene with a couple of galleries and a dedicated Arts Center as well. As it turned out, our friend "happenstance" provided us with an Art Walk the night we were in Athens. Thanks to Lauren at the Arts Center for giving us an overview describing the organization and its mission. If you make your way to Sweetwater, make sure to stop at The Cup Runneth Over Coffee House right there on Main Street, and say hi to Savannah and Casey for us.
An entire day was dedicated to walking around the Broadway and Central district prospecting for interesting and old materials to bring home and turn into art. We found a diverse selection of outlets to wade through looking for art "ingredients" and had a lot of fun in the process. A couple of highlights are the Mid Mod Collective and Retrospective Vintage Store, both offered a great selection of mid-century items and furniture, and are located on N. Central Street, just minutes apart. You will also find the Three Rivers Market Food Co-op, which we found to be a really upbeat place with a great selection of local and organic food products, as well as a group of really nice people! The Co-op is a great place to stop in and get a snack! And speaking of snacks, we stumbled on Paysan's Bakery, home to some of the best bagels we've found throughout our travels. Located just north of Old City, this tiny storefront bakery is cranking out some fantastic product. We explicitly recommend the egg salad on the bagel of your choice.
Our time in Tennessee went by much too quickly, but we covered a lot of ground, (about 3000 miles in total), met some great people, and gathered some fantastic "stuff" to work with in the studio. We really didn't know much about the state when we left home, and we returned with a whole new perspective, inspired by innovative businesses, community initiatives, and creative individuals. Thanks Tennessee for a memorable trip!
p.s.- Although not in Tennessee, we can't leave out the Kentucky Artisan Center at Berea, which we found on the way home due to some great signage on Interstate 75. The Artisan Center, which doubles as a rest stop at Exit 77, is without question the most impressive representation of economic development combined with local art that we have ever come across. The Center started out as a local initiative in response to tornado damage caused to a number of local artisan shops, and quickly became a statewide movement to display and market work created by artists and artisans throughout Kentucky. The Artisan Center opened in 2003, and by 2008, had welcomed over 1 million visitors. There is a café on-site, really clean restrooms, and some impressive art. This place is a MUST see if you're traveling on I-75, and, in fact, it's a great reason to check out that part of Kentucky, too.