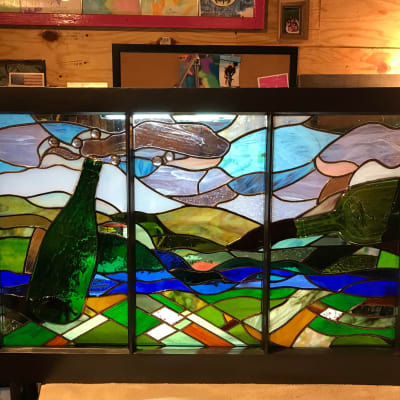 F.L.A.V.O.R. Studio and Gallery
Finger Lakes Art Vintage Old Repurposed
Marc and Deb are proud to invite you to visit F.L.A.V.O.R. Studio and Gallery, housed in a renovated old barn on the grounds of the Black Sheep Inn and Spa. We are passionate about utilizing recycled and repurposed items in our art, which stems from our personal thoughts on economy, efficiency and ecology. We work in mixed media, with an emphasis on Stained Glass for Marc, and jewelry from recycled items for Deb. If we find it interesting, we'll use it or try it. And we hope you'll like it too.
We invite you to visit us at the F.L.A.V.O.R. Studio and Gallery every day from 5 – 7 PM for "Art Evenings" in the Studio. A great opportunity to see what creative projects are in progress and to view some completed works. There is always an opportunity to lend a hand, learn a technique, and, of course, ask questions.
Check out what we're working on, what we've just completed, or what we can create for you!
Create something for yourself in one of our instructive and fun Studio Classes. We are happy to schedule a class for you whenever it fits in to your schedule. You can choose from Stained Glass, Mixed Media, Repurposed Jewelry-making, and even Bench Building.
Contact us at 607-368-8471 to schedule your class!

Mercantile
Welcome to the Mercantile at the Black Sheep Inn and Spa where you can purchase any number of items to take with you for yourself or as gifts for that someone special in your life. Choose from a wide variety of locally-crafted objects and work from local Finger Lakes artists, much of which is specially handmade for the Black Sheep Inn. You will also find fun and unusual gifts produced from recycled, reused or repurposed items.
Feel free to place your order via Email or by phone at (607) 569-3767, or (607) 368-8471. We're happy to gift-wrap any item and include a handwritten card.