Enjoy Our Delicious Vegan Breakfasts
Our plant-based breakfasts are served between 8:00 and 10.00 am. Wake up to a hot cup of tea or coffee, a friendly smile, and a truly amazing breakfast.
At The Black Sheep Inn, we always try to source the highest quality local ingredients whenever possible. There are independent farms, farmers' markets, purveyors, and cottage sellers all over our area from which we are proud to purchase so much of our food's components. We will also be beginning our own vegetable and herb garden where many of our ingredients will be grown on-site!
Owner/Innkeeper Miranda is an enthusiastic and accomplished home cook, with a passion for creating satisfying, hearty and wholesome plant based meals. She is now dedicated to sharing this passion with our guests at The Black Sheep Inn!
In addition to the selection of fresh fruit, homemade granola, freshly baked goodies waiting for you, here are some samples of what you can choose for the main event!
The 'Full English': Beyond Meat sausage, sauté potatoes, scrambled tofu, mushrooms, tomatoes, baked beans, toast.
Breakfast Hash: onions, potatoes, Beyond Meat sausage chunks, mushrooms, collard greens.
Scrambled tofu on toast.
Avocado on toast with cilantro and kala namak salt
Fluffy pancakes with maple syrup and fresh fruit
Nuevos rancheros: a Mexican inspired hash with tofu, scallions, black beans, kale and a touch of spice
Overnight oats: oats, chia seeds, plant based yogurt, maple syrup served layered with fresh fruit compote
French Toast: made with JUST Egg flavored with vanilla and cinnamon
Tofu Benedict: English muffin, 'sausage' pattie and tofu topped with vegan hollandaise sauce and chopped chives
Fritatta: JUST Egg with onions, mushrooms, Italian style sausage chunks, peppers and herbs
Mushrooms on toast

We have a selection of the above dishes on our menu, which changes seasonally. We hope you enjoy our fabulous plant-based cuisine as much as we enjoy sharing it with you!
If your diet requires our personal accommodation, please let us know at least 24 hours in advance. Our cuisine is 100% vegan, but if your diet requires other accommodation please don't hesitate to let us know. *Common food allergens are used in the kitchen. Please let us know in advance if you have any food allergies.
Breakfast at the Inn – Included with your stay is a delicious, plant based breakfast served in our dining room.
Picnic Lunch or Dinner – Let us arrange for boxed Lunches or Dinners to enjoy during your fun-filled day at the wineries, romantic scenic trails or beautiful lakefront parks here in the Finger Lakes.
Inn Harvest Cooler – Loaded with homemade plant based sweet and savoury goodies to enhance your Finger Lakes Wineries getaway experience.
Give us a call at (607) 569-3767, (607) 368-8471 or make your reservation online today and let us know if you are interested in any of our dining options.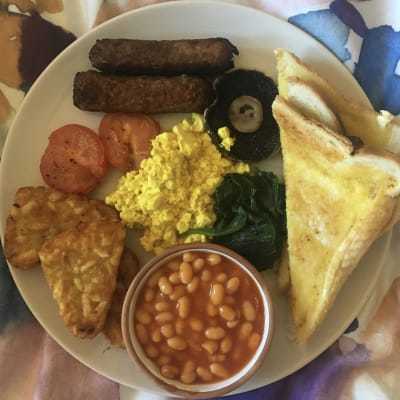 SaveSave